A Hero in Japan! – Efren Peñaflorida's Visit to Japan
A Hero in Japan! – Efren Peñaflorida's Visit to Japan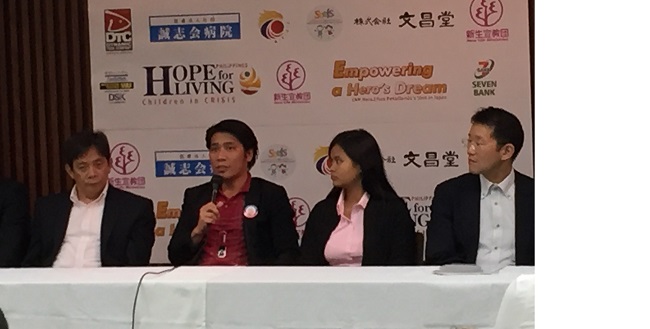 HOPE for LIVING Philippines: Children in Crisis
Efren Peñaflorida's Visit to Japan
As part of this year's HOPE for LIVING Philippines Project, New Life Ministries is working in cooperation with a fellow Christian organization based in the Philippines, Dynamic Teen Company (DTC). DTC is an organization established by 2009 CNN Hero of the Year, Efren Peñaflorida, who visited Japan this month to promote his work in cooperation with the HOPE for LIVING Philippines Project. During his visit, he held a press conference at the Philippine Embassy, engaged in seminars for Filipinos teaching English in Japan, visited several churches to share his testimony, and even appeared on NHK World!
Several years back, NHK World did a segment on Efren's work in the Philippines, and so they were glad to have him on the show to share about what his organization is doing now. Visit the link below to see his NHK World interview.
When Efren was growing up, he was bullied in school, so much so that he felt like quitting. He wanted to join a gang and fight back against the bullies. But during that time, he met a man who became his mentor and led him to the Lord. After that, with his fellow classmates he started Dynamic Teen Company as a way to help kids in the same struggle as he had. Following the Lord's leading, he and his organization continue to work to bring hope to the children in the slums of the Philippines.
NLM and DTC are very excited to see how these manga will influence the children. They have already done trial runs with the manga in Tacloban, and the response has been incredibly positive. While kids may not be able to read the manga, the images grab their attention and they can enjoy it. DTC hopes that the manga will further help develop the children's love for reading, and overall, for learning, and ultimately, we pray that the children will come to know the Lord through the manga.
DTC's programs with the manga will be rolling out during the month of August. We are truly grateful for your prayers and support. Please continue to pray that this work will be a success to the glory of God and that His love will be made known more and more in the lives of the children.