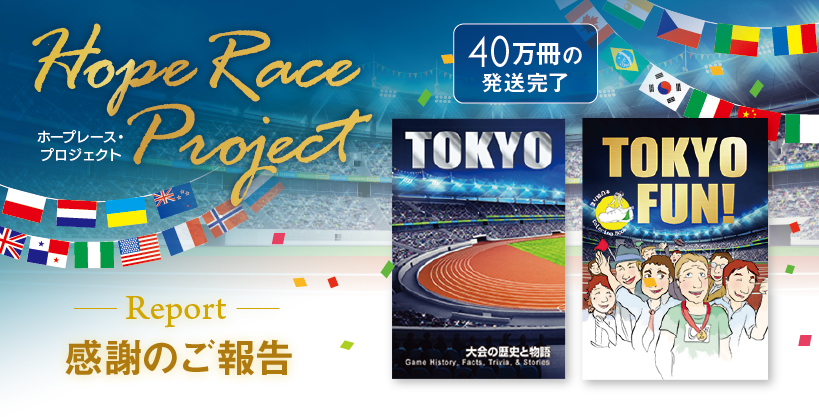 Thank You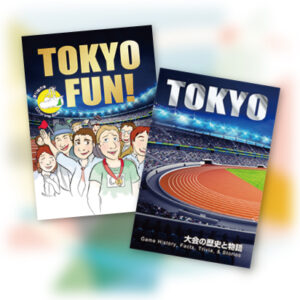 The Hope Race Project has been well received, and we have closed the application for all the 400,000 books (200,000 each for "TOKYO" and "TOKYO FUN").
(Click here for details on Hope Race Project)
Thank you for making this possible.
"Thank You" message from our Partner – GPM
Mr. Joseph Taylor, director of Gospel Publishing Mission (GPM), the organization that spearheaded the Hope Race Project (HRP), would like to thank everyone who has participated in the distribution of the Tokyo books and activity booklets.
Please take a look.
Please watch this 3-minute video from Mr. Joseph Taylor, Director of Gospel Publishing Mission (GPM).   (Click the subtitle icon to add English subtitles.)
A message of gratitude from the New Life Ministries
When the decision was made in 2020 for New Life Ministries to partner with GPM and take on the role of taking orders and shipping the 400,000 books in an unpredictable future marked by the pandemic, some people asked, "Is this possible in Japan, where the Christian population is small?"
But the Lord has His plans. He used you and your organization far beyond our imagination.
Right from the time we launched the HRP in May 2021, lots of people immediately requested copies, and information spread to other believers who saw the tract. Finally, over 400 individuals, churches and organizations have ordered from all over Japan – orders coming in from 44 out of the 47 prefectures of this country.
This project was definitely the work of the Lord, and we are deeply grateful.
New Life Ministries and Gospel Publishing Mission would like to express their sincere gratitude to the Lord for giving us such a wonderful opportunity to showcase His love and grace for this country.
In addition, we would like to give special mention to Dr. Masao Himei of World Sports Mission Japan (WSMJ), Youth With A Mission, and Ms. Shelley Carl, a missionary for the Assemblies of God World Missions, who all put in their time and effort to make the distribution a successful one.
We would like to express our sincere gratitude to all those who cooperated in the distribution.
(CEO. Toshikazu Iwaoka)
One of the many testimonies
An account (translated from Japanese) of Rev. Naoki Kanno, Pastor of Shinjuku Fukuko Church, and a representative of the Roadside Evangelism Network:
"We distributed the Olympic booklet, saved three high school girls and one man, and were able to evangelize to many others."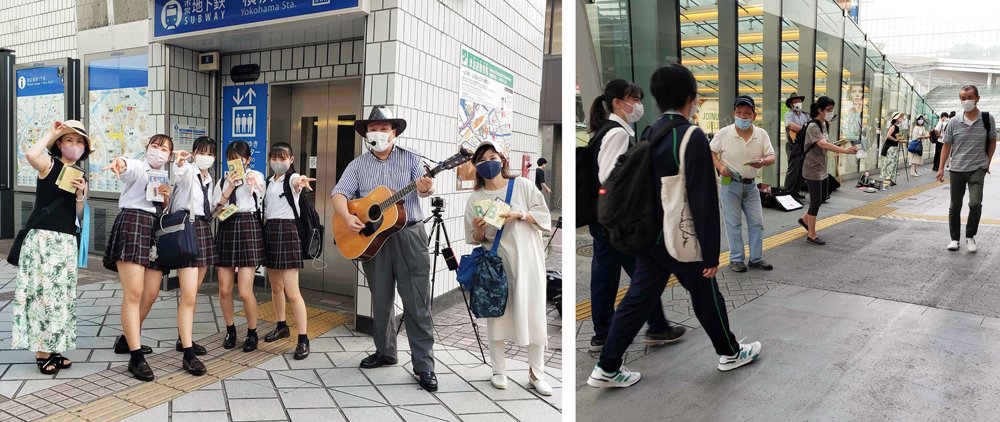 "My name is Naoki Kanno and I am the representative of the Roadside Evangelism Network. We would like to express our sincere gratitude [to HRP] for providing the Olympic tract to us. We carry out roadside evangelism more than 150 times a year, mainly in each of the three prefectures [Tokyo, Saitama, and Kanagawa]. We distribute Bibles, Manga Bibles, evangelism tracts, etc. while performing some songs and sharing God's message. Some of those who would listen to us would come to Christ and be saved.
 
On July 28th (Wednesday), we conducted roadside evangelism in front of Yokohama Station. Around this area, it is common nowadays to see some frivolous men visiting women in cabaret clubs and some adult-video (AV) pimps chasing women who are passing by. It's a scene of everyday events in the city of Shinjuku, but recently it has seeped into Yokohama, as well.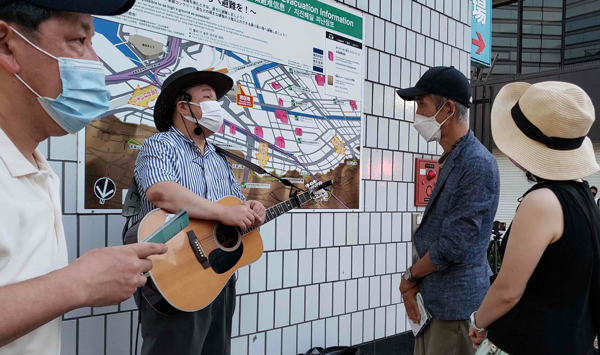 At first, my heart was heavy. We conducted the day's evangelism at two locations, Yokohama Station Minami West Exit and Yokohama Station Minami East Exit. At the former location, we saw several men approaching women offering them to be part of those sleazy videos. It was difficult to see all these things happening. But at the same time, this was exactly the place we needed to be – a place where you can evangelize freely. As I was evangelizing while handing out the Olympic booklet, three high school students stopped and listened to me and accepted Jesus as their Savior after hearing my personal testimony. Also, a man living on the street was saved by believing that Jesus is the Savior. We introduced a church in Kotobuki-cho, Yokohama where street sleepers often gather.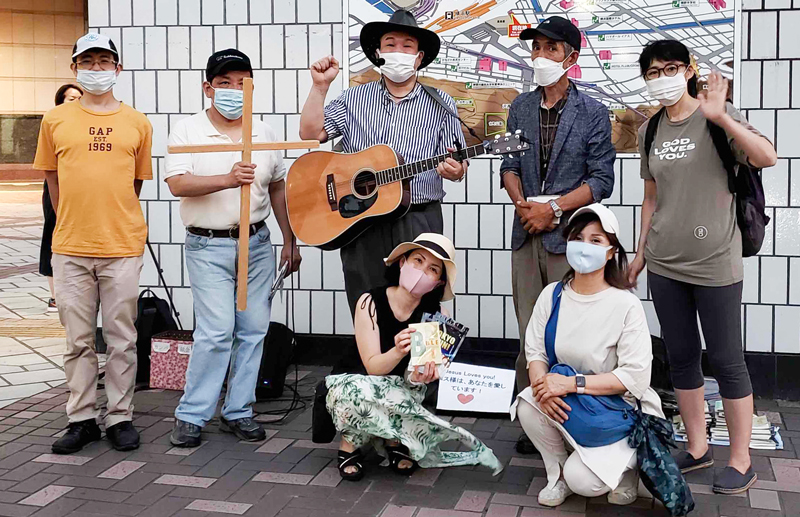 When I moved to the Minami East Exit, it was a very difficult atmosphere to evangelize in. Ten minutes later, there seemed to be someone who called the police, and a policeman came. I think it was a report from a person who dislikes Christianity, but since I am not doing anything wrong, I was able to continue my work as it was. But when it was time for the members to gather and pray, I returned to Minami West Exit. I felt an urge to go back to my old spot to continue my work. Within 10 minutes, a woman stopped and opened her heart to talk. Our conversation went on until I could sense that the woman was ready to accept Jesus. I felt that this was the reason I was led to go to the Minami East Exit, to share the Gospel with this one woman.
 
When I returned to Minami West Exit, four high school girls stopped and listened to us. We became friends and took group photos with our cameras. I handed out the Olympic booklets, so I believe I was able to sow the Gospel in their hearts. On top of that, I was able to share the Gospel with many different people in those places through our music, sharing, and booklet distribution."
---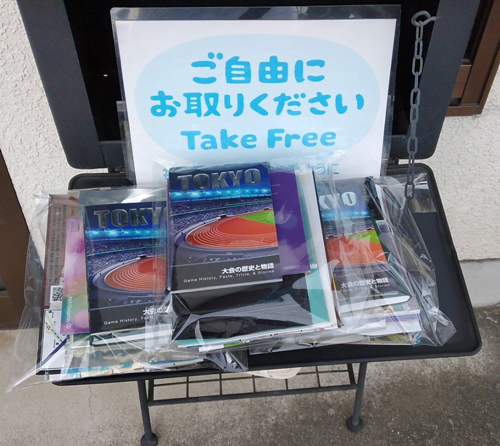 The day that did not start well turned out to be good. Just like the Olympics Games, beautiful things will come out of it because the Lord is with us.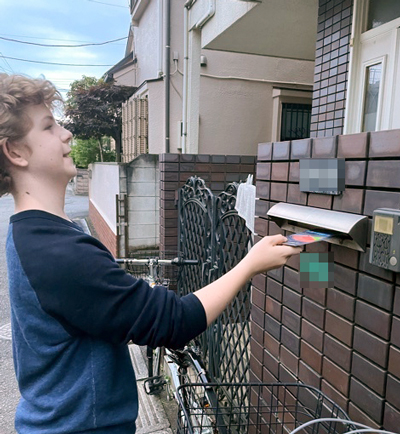 Please continue to share the books and activity booklets you have received. And let us all continue to pray for this nation.
We will continue to serve as a bridge between mission partners, regional churches, and Christian organizations to shape the vision of missions around the world.
If you want to be part of the work that we do, please remember to pray for us and continue to support the other work of New Life Ministries.
Online Giving
For donations originating from Japan and non-North American countries.

For donations originating from Canada and the U.S.A.

New Life Ministries is a non-denominational Christian ministry committed to serving the Lord by printing and sending Bibles and Gospel literature to Japan and the rest of the world, in each people group's heart language.
Beginning in 1954, under the name New Life League, the ministry reached out to children, provided Gospel literature, and did evangelism through radio broadcast.
Later on, the work shifted more to the collection and printing of Gospel literature as the main focus.
Throughout history, there has always been a call for the supply of Bibles, and New Life Ministries has continued to do all that it can to meet the demand. Our purpose is to see Japan changed for Jesus, and that the whole world be filled with His precious Word.