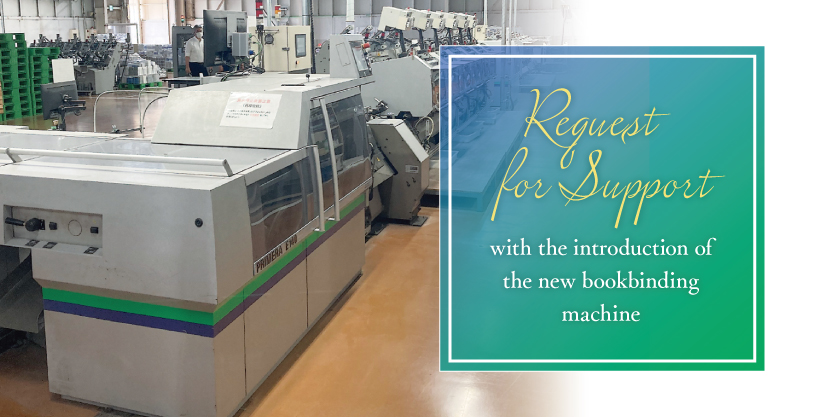 Request for Support
 Thank you for your continued prayers and support for the work of literature evangelism. We would like to share with you about an urgent need for the work of New Life Ministries. We are currently in need of a new binding machine to continue our ongoing work of literature evangelism. For over 30 years, New Life Ministries has been using the same saddle-stitch binding machine, which came with us from our previous factory in Niiza in the 90s.
 For this current binding machine, the manufacturer is no longer in business and maintenance is insufficient to keep it going much longer. We are currently using the machine and maintaining as we can, but it will not be long before it breaks down to a point where it is unusable. We have no choice but to replace the machine, however, it is difficult with our current daily costs. We have been praying to the Lord about this situation.
 In August, we received word from one of our collaborating printing companies here in Japan that they would be willing to sell us one of their saddle-stitch binding machines (you can see the photos below).
It has been in use for about 10 years, but it is a machine made by Swiss maker Mueller Martini, which has a strong reputation for manufacturing bookbinding machines. It was purchased new for 150,000,000 yen (US$1.5 million), but we were offered an exceptional price to purchase from our partner at just 2,200,000 yen (US$22,000).
Through this we can see the Lord at work in what would otherwise be impossible. Of course, in order to use it, we will need a specialist to arrange transport and installation at our acilities. The estimated cost for relocation would be 6,000,000 yen (US$60,000). Therefore, the total is 8,200,000 yen (US$82,000). Even with this amount, we cannot move forward without a move of the Lord.
Additionally, as you have probably seen in past newsletters, the following are booklets that have been bound with the last saddle-stitch machine.
| | |
| --- | --- |
| Gospel Publishing Mission–Tokyo2020 Tract/Tokyo Fun Tract | 200,000 cps |
| SEE-Celebrate the Victory Tract | 85,000 cps |
| Manga Tract-The Messiah | 10,000 cps/year |
| ONE HOPE Tracts – HOPE NAVI/Bible App For Kids/Manga Mission | 603,300 cps |
| Japan Campus Crusade for Christ-4 Spiritual Laws | 10,000 cps/year |
| Gideons International Canada-SPARK | 80,000 cps |
If we are able to upgrade to this new saddle-stitch binding machine, not only will we be able to continually provide effective and powerful evangelism tools for Japan, but also for organizations around the world.
Because of the challenges we continue to face due to the pandemic, we are unable to purchase the machine on our own. We would like to ask your help and understanding for this need for a new binding machine that will be used solely to continue to promote evangelism and spread the Gospel in Japan and around the world for years to come.
Thank you for your continued understanding and support of the ministry.
Blessings,
October 1, 2021
Toshikazu Iwaoka, CEO
New Life Ministries
Online Giving
For donations originating from Japan and non-North American countries.

For donations originating from Canada and the U.S.A.

New Life Ministries is a non-denominational Christian ministry committed to serving the Lord by printing and sending Bibles and Gospel literature to Japan and the rest of the world, in each people group's heart language.
Beginning in 1954, under the name New Life League, the ministry reached out to children, provided Gospel literature, and did evangelism through radio broadcast.
Later on, the work shifted more to the collection and printing of Gospel literature as the main focus.
Throughout history, there has always been a call for the supply of Bibles, and New Life Ministries has continued to do all that it can to meet the demand. Our purpose is to see Japan changed for Jesus, and that the whole world be filled with His precious Word.