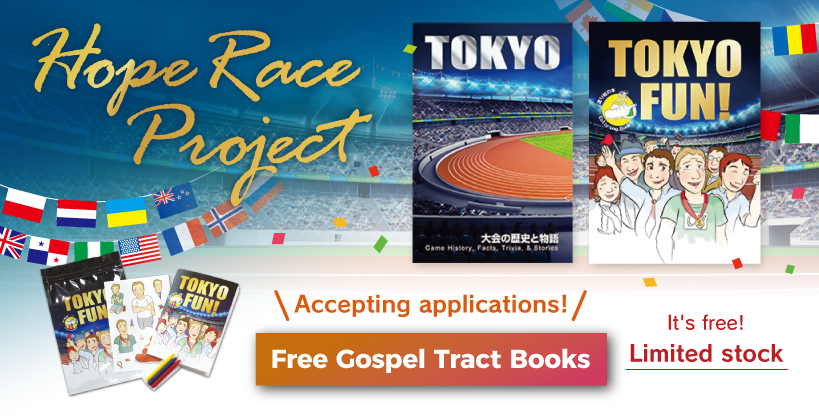 Accepting applications for free Gospel tract.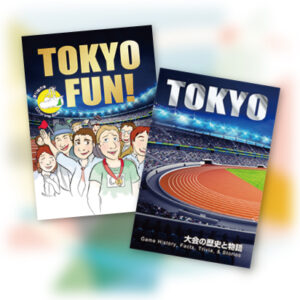 We are accepting applications for the "Hope Race Project", where you can order the perfect Gospel tract for the Olympic season for free!
This campaign offers for free two types of special books for evangelism – "TOKYO" and "TOKYO FUN".
Since the number is limited, please order as soon as possible and use it to engage your community during this Olympic season!
*This campaign is only for those who live in Japan.
What is the Hope Race Project?
Please watch this 5-minute video from Mr. Joseph Taylor, Director of Gospel Publishing Mission (GPM), talk about this project.   (Click the subtitle icon to add English subtitles.)
This project, a gift entrusted to Japan, is sponsored by GPM, a Florida-based mission organization.
The Gospel Publishing Mission (GPM) has a heart to use the biggest sporting event in the world as a platform to share God's love to the world. With the help of donations from supporters and friends, they have printed two beautiful books that are right for this sporting event.
Initially, GPM staff were planning to visit Japan and distribute it all over Japan, but due to the epidemic of the new coronavirus, they could not come to Japan.
GPM Joseph Taylor, who is unable to come to Japan due to current travel restrictions, would like to pass the baton to our Japanese Chritian brothers and sisters to bring this project to fruition.
New Life Ministries has printed the Gospel Tracts and is ready to ship them anywhere in Japan.
Please take the opportunity to distribute these tracts to the people in your community during the torch relay for this Olympics.
*We are very happy to announce that even if the Olympics is cancelled, the Hope Race Project will still continue, until our supplies last.
Gospel Tract Introduction
The "TOKYO FUN!" packet for children consists of a coloring-activity booklet about the life story of Eric Liddell, a Christian Olympian who also became the main character of the movie "Chariots of Fire",
a set of mini crayons, and sticker pad that children will surely enjoy.
Written in both the easy-to-understand "International English" and the corresponding basic Japanese text, the booklet is easy for anyone to understand. It can be used to study both English and Japanese, especially for kids!
This beautifully made book "TOKYO" is a tract for adult readers. It has callouts with Olympic Facts and Trivia.
All pages are beautifully designed in full color, with the text woven together in Japanese and International English, making it book that you would simply want to read.
There is also a space in the inside back cover of the book where you can stamp your church information.
Apply Now!
Please feel free to apply using the application form below.
Shipping cost within Japan is free!
Get it while supplies last.
What is GPM?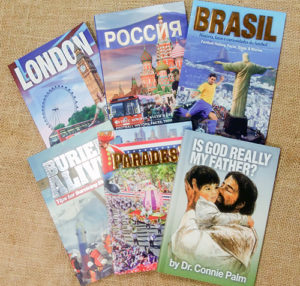 Numerous tracts has been distributed by GPM
GPM is a ministry started in 1987 by Mr. and Mrs. Taylor, missionaries from Papua New Guinea.
In Papua New Guinea, where there are many ethnic minorities and many languages are mixed, the activity was given the vision of making tracts using "International English" using only 1500 words that are easy for anyone to understand.
However, this ministry, which started "for Papua New Guinea", has spread far beyond their original imagination to the whole world.
To date, they have distributed more than 3 million Gospel tracts to more than 217 countries.
GPM's Gospel Tract is characterized by being written in a bilingual language between the local language of the venue and the International English, so it can be read not only by locals but also by many foreigners who gather there.
You can also order another free tracts for the Olympics.
Please also check this tract and apply.