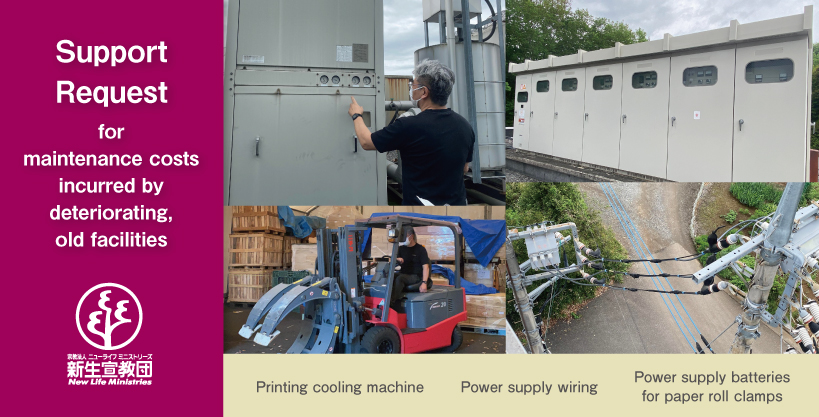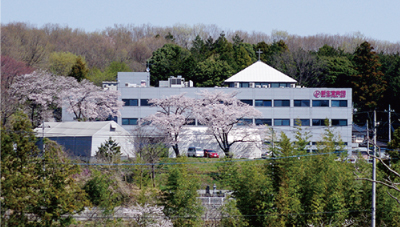 Thank you for your continued prayers and support for our ministry.
It has been 27 years since New Life Ministries moved its factory to its current location in the town of Hatoyama. Currently, our facilities are aging and are in need of immediate repair and maintenance.
Facilities in need of repair and maintenance
The following three facilities in our factory are in need of contingency measures, so that they may continue working even during unforeseen circumstances.
1. Printing cooling machine
In the printing process, we use a cooling machine to cool down printing materials that have become hot as a result of drying the ink. Currently, one of the two compressors that compress the cooling gas has broken down.
Here in Hatoyama, which is one of the hottest documented areas in the country, the rising temperatures in the coming months may cause overheating, resulting in the cooling system shutting down and the inability to print.
Approximately 1.2 million yen are needed to repair the faulty compressor.


The meter is not working properly due to a compressor.
2. Power supply wiring
The Kanto Electrical Safety Inspection Association has notified us that the wiring of the high-voltage power supply equipment (electrical cubicle), which is used to convert 6,000 volts to 200 volts, has reached the end of its useful life. Specifically, it's the wiring from the utility pole outside to the factory's cubicle.
This may obstruct the voltage conversion and affect the operation of printing machines.
In the worst case, power outages could occur, affecting neighboring areas as well.
Approximately 1.4 million yen are needed for repairs.


The high-voltage electrical wiring (left) and the cubicle (right).
3. Power supply batteries for paper roll clamps
The 25 batteries of the clamps which are used to bring in the printing paper (paper rolls weighing approximately 600 kg) have now deteriorated.
Without functional clamps, it will be impossible to unload the printing paper from the shipping container.
Approximately 900,000 yen are needed to replace the batteries.


Clamp (left) and its battery (right).
Request for financial support
To repair these three facilities we need a total amount of 3.5 million yen.
New Life Ministries will soon be printing the New Testament and three manga series in Arabic (Manga Messiah, Manga Metamorphosis, and Manga Mutiny) for refugees in the Middle East.
We have also begun to translate manga in other languages, including Ukrainian. A great amount of other Gospel literature is also scheduled for printing, and we need measures in place to ensure their completion even in unforeseen circumstances.
Our ministry also needs maintenance funds for many other facilities, while the rising costs of fuel and materials continue to be a serious concern.
Our employees are working hard to cut costs as much as possible, but we ask for your prayers and support so that this work does not come to a halt.
Online Giving
For donations originating from Japan and non-North American countries.

For donations originating from Canada and the U.S.A.

New Life Ministries is a non-denominational Christian ministry committed to serving the Lord by printing and sending Bibles and Gospel literature to Japan and the rest of the world, in each people group's heart language.
Beginning in 1954, under the name New Life League, the ministry reached out to children, provided Gospel literature, and did evangelism through radio broadcast.
Later on, the work shifted more to the collection and printing of Gospel literature as the main focus.
Throughout history, there has always been a call for the supply of Bibles, and New Life Ministries has continued to do all that it can to meet the demand. Our purpose is to see Japan changed for Jesus, and that the whole world be filled with His precious Word.