Manga Report from the Caribbean (Part 1)
Manga Report from the Caribbean (Part 1)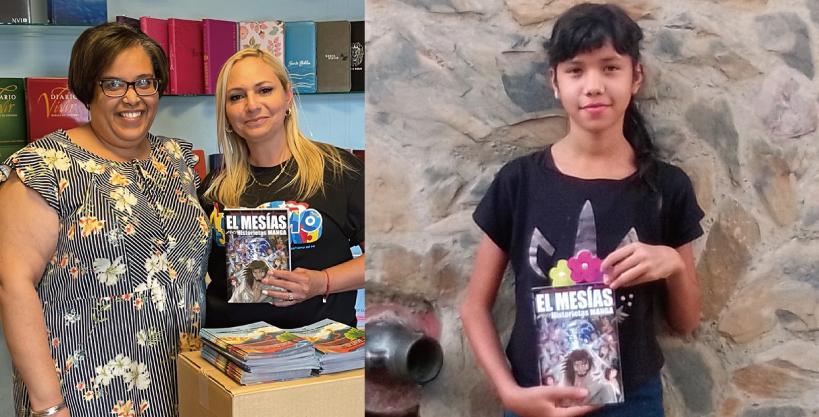 The Mies Foundation, mission partner of New Life Ministries, is a ministry undertaking missionary work in Cuba, Venezuela, Puerto Rico, the Dominican Republic, and areas around the Caribbean.
From 2016 to 2020, New Life Ministries printed and sent 127,000 Spanish Manga Messiah books for the work of the Mies Foundation.
●For more information, please read this article.

The Mies Foundation is working with local missionary organizations and churches, such as the "Bible League Puerto Rico" and "Making Disciples Ministries", to use these comics for youth evangelism and faith education.
We have received a report and testimony about this project and would like to share it with you.
Since there are many reports, we will divide it into two parts.
Manga Reports and Testimonies
What makes Manga attractive?
Elizabeth O. Córdova, Educational Coordinator of the Children's Ministry of the Bible League Puerto Rico (BLPR) tirelessly conducts Evangelism and Discipleship Workshops in different cardinal points of the island of Puerto Rico. She reports: "We are very active in taking to the communities, schools, and churches the wonderful literature and the message of Jesus, captured in the compendiums of the Manga Comic Books. Children's teachers highlight the description of the characters, the maps, the footnotes, the colorful illustrations, and the biblical passages, affirming that they facilitate the teachings, making them interactive and at the same time provoking in the participant's a desire for biblical reading.
They recognize that the book provides positive aspects in the early children formation and pre-adolescence stages as they highlight the actions of the life of Jesus as a basis for teaching principles and values.
"We want to see multitudes of children and young people being impacted with the Word of God through this valuable book as its graphic layout facilitates their evangelization allowing them to reach their families as well," concluded Elizabeth Córdova.
Manga Gospel reaching the schools
I am a preschool teacher in my country's public school system, and I am also a children's pastor at the Iglesia Ciudad de Avivamiento (City of Revival Church) in the town of Ponce. This year I started a school project called "My Reading Pet." We carried out the activity of My Reading Pet as an integration of values. Through reading, the children nurture and care for the development of their pet (a stuffed toy).
We requested children's biblical material from the Bible League of Puerto Rico. In response, they provided the Manga Gospel to our children so that during Holy Week the children would enjoy biblical literature to promote their spiritual growth and development. I was familiar with the Manga literature and knew that this was the book we needed for our reading project. We prepared the room and the books for the presentation of the project, and the children were happy in anticipation to their Reading Pet. When the children saw the Manga Gospel book "The Messiah" they were very excited with what they received.
We have been blessed and are thankful for this literature, which is wonderful for our children, because it fosters spiritual growth through the Word of God.
A total of fifty (50) students from two kindergarten groups from the Josefa Boya León Elementary School in the town of Ponce were impacted.
Linet Segarra Laboy -Teacher
(Ponce, Puerto Rico)
Captivated Through Manga
My testimony is quite peculiar. I went to visit a cousin and he showed me a book they had given him at the children's biblical school he attends. As soon as I saw it, I thought it was very interesting, because of its comic format, simple language, and the fact that it was all in story form. I began to read it right away, and when it was time for us to go home, I was almost halfway through. It is true that the main reason to visit my aunt's house was to spend time with family, but the one thing that truly mattered to me was reading my cousin's precious book.
Many of the stories remained in my mind. I wanted to know more about them, and I asked my mother to go back to my aunt's house to finish reading the comic book. I insisted so much that we returned the following week. The first thing I did as soon as I arrived, after asking for our traditional family blessing, was to ask my cousin for the book that he had lent me the week before. He ran off to look for it. When he came back with the book, we (my cousin, my 7-year-old brother and I) sat on my aunt's big couch reading it out loud and talking and sharing with each other our different points of view.
I think that God saw my desire to have one of those books for myself. Two weeks later, at the church I attend, in the discipleship group we have on Sundays, they gave each of the children a Messiah book. I have already read it 3 times. Now when I feel like reading it, I choose a story at random and allow God to talk to me through it.
My mother and I currently read the Manga story to my little brother, since he does not know how to read. He loves drawing each character and asking questions about the reading. We are all going to church and very involved in the group of children where, from time to time, we do an in-depth study of a passage from the book called the Messiah.
Thanks to all who make it possible for Venezuelan children to have the Manga Messiah.
We would like to have other books like that because it is a more enjoyable and simple way to understand the Holy Scriptures.
Raquel Rodríguez
(Venezuela)
---
We thank God that the Manga Messiah printed at New Life Ministries has reached the hands of children in faraway South America and has deeply moved hearts, and much more accepted than we could have imagined.
We also thank all of you who have dedicated yourselves to this project and remembered us in your prayers.
Please continue to remember and pray for these projects.
(Continued in Part 2)

Online Giving
For donations originating from Japan and non-North American countries.

For donations originating from Canada and the U.S.A.

New Life Ministries is a non-denominational Christian ministry committed to serving the Lord by printing and sending Bibles and Gospel literature to Japan and the rest of the world, in each people group's heart language.
Beginning in 1954, under the name New Life League, the ministry reached out to children, provided Gospel literature, and did evangelism through radio broadcast.
Later on, the work shifted more to the collection and printing of Gospel literature as the main focus.
Throughout history, there has always been a call for the supply of Bibles, and New Life Ministries has continued to do all that it can to meet the demand. Our purpose is to see Japan changed for Jesus, and that the whole world be filled with His precious Word.
Articles Category
ピックアップ記事
2023-2-13