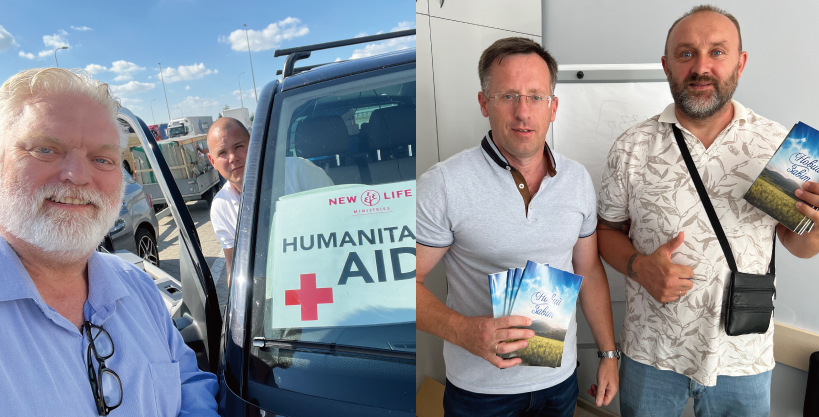 The Russian invasion of Ukraine broke out in February this year. Many Ukrainian people have been forced into the devastating hands of war. In the meantime, the neighboring countries have been offering their support.
We joined hands in partnership with our sister organization, New Life Ministries Norway, and another organization known as Ukrainahjelpen Karmoy to bring relief goods and Bibles to areas impacted by the war.
In May, New Life Ministries printed 25,000 Ukrainian New Testaments on short notice and sent them to New Life Ministries Norway, the team conducting relief operations at the local site. The New Testaments arrived in August, and 18,600 had been distributed throughout a seven-day period from 27th of August to the 2nd of September.
We have received a report from New Life Ministries Norway regarding the relief operations in the area, which we'd like to share with you.
The team went to Lviv, Ukraine, to deliver supplies and Ukrainian New Testaments to a maternity hospital and the local area. The trip took 7 days from 27th of August to the 2nd of September, covering a distance of 4,000 km back and forth.
Report from Ukraine Trip
Saturday August 27th, we loaded a van, a large car and a trailer with 18,600 Ukrainian New Testaments, 160 kilograms of milk powder and 300 packets of baby diapers for new born babies. A Christian doctor in a hospital in the city of L`viv had requested this help.
It is a long drive from Norway to Ukraine, we had to cross Sweden, Denmark, Germany, and Poland before we finally got to the border between Poland and Ukraine on August 30th. The line of cars waiting to get across was at least 1 kilometer long, but since we had signs on our cars with "Humanitarian Aid", we were allowed to pass the line and go straight to the border.
When we got to the Polish side of the border, we were told that the computer system on the Ukrainian side was down, so we could not come across. Then we had to drive another two hours to get to another border crossing.
It was the same procedure there, we could drive up to the front of the line and within about two hours, we were able to cross the Polish/Ukrainian Border.
It started to get late. Our destination in Ukraine was the city of L`viv, 1 ½ hour drive from the border. The challenge was that there is a curfew between 23:00-06:00 so no one can be outside during those hours. One of our cars made it before 23:00, but the other car came too late. They were stopped at a police check point, but since we brought humantarian aid, the policemen were happy and let us drive to the place we were going to sleep, without any problem.
The next morning we met with Pastor Voldoja, our contact in L`viv. I had visited his church in Ukraine before the war, and he is a great brother in Christ. He was so happy and thankful that we came all the way from Norway to help and bless the Ukrainian people. We were also able to give him some food and help from Norway.
He took us then to the large and beautiful Town Hall. A member of the city council, who also belongs to Pastor Volodja`s church, met with us. He is responsible for all the schools, preschools,
and hospitals in the city. L`viv is a city of 800,000 people. Then he took us to the office of the Deputy Governor of the city.
He was a young man with large responsibilities. We told him we had come to Ukraine to bring New Testaments and I said that the Gospel of Jesus is the message of Hope and Peace, and that we wanted to bring that to the Ukrainian people. He expressed a great thankfulness that we came, and that we took the risk of travelling to a country in war. We were also able to give him a number of New Testaments and pray together for him and for peace for Ukraine and we prayed for all those who are fighting for their country.
He also explained how the city in February – May was flooded with refugees. At the most there were 2.5 million refugees in this city alone. The city authorities had done a great job in hosting the refugees in sports halls, theaters, schools, churches, kindergartens etc. And later on several refugee camps were built. We were able to visit one and it was nice facility. The people living there were only women and children and some elderly people. Men between 18 and60 were fighting in the war and stayed behind in their home areas.
It was a pleasure to also hand out New Testaments to the refugees, and they were very happy to receive them. An old lady I gave one to held it tight to her heart while tears flowed down her face.
After the refugee camp we went to the city center and there we saw a lot of Russian military equipment that was damaged and broken by the Ukrainian Army. We also met a group of young soldiers, 19 years old, who were preparing themselves to go to the frontline to fight for the freedom of their country.
It made a strong impression to see these young men willing to sacrifice their lives for the homeland.
Then it was time to take the New Testaments to the local branch of the Ukrainian Bible Society. This branch is responsible for Bible distribution in 8 prefectures with around 10 million people. It was a great joy to unpack all the boxes of New Testaments. I could not help but think about the long journey they had made. First printed at New Life Ministries in Japan, then shipped to Norway, then driven by cars to Ukraine and finally arrived at their destination.
We met with the Regional Director and his staff and they expressed their thankfulness for us coming and delivering this precious cargo. They explained that the need for Bibles and New Testaments was beyond measure. People are requesting Bibles all the time. They also had Children's Bibles they gave out. During the war, people realize that only Jesus can give peace and hope. The Director explained that the New Testaments we brought will be distributed to different parts of the country to be handed out for free.
He also told us that the soldiers are desperate to get their own Bibles. He said that in the war zone you will never find a soldier that does not believe in God. In the moment of war, knowing they can be killed any moment, they are seeking to find the Lord.
We also talked about the 110,000 full Bibles New Life now will start printing. Many of the covers will be camouflage colors, and those Bibles will be handed out to soldiers only. He expressed thankfulness that New Life Ministries will provide the Bibles and that we also pray for them. We also had a great time praying together and lifting the Ukrainian people up to the Lord.
Then we went to Pastor Volodja`s church where they had a gathering for elderly people. It was fantastic to meet with them.
They were so thankful that we came and expressed that they appreciated that we came despite the risk of the war. Several ladies in the group had their sons in the frontline of the war, and they were very much concerned for their lives. We also prayed with them and comforted them with the Word of God. They also received the New Testaments with great appreciation.
In Pastor Volodja`s church there is a doctor who works in a hospital for expecting mothers and newborn babies. She had asked if we by any chance could bring them some help. They did not have milk powder or diapers for the babies. Due to the war, supplies were very limited.
We were able to hand then milk powder, diapers and some baby clothes, bottles, etc. All the expecting mothers got their own bag with some gifts from us.
 
We met with the Head doctor and several of the other doctors and they were moved to tears by our visit and our gifts. The doctors then took us to the ward, and we met with 18 pregnant young women. We could see in the face of many of them that the joy of having a baby was mixed with the fear for their men who were fighting in the war. They were afraid the men would never come back alive.
I asked the Head doctor if I was allowed to say something. She said yes, and I was able to share the Gospel with the young ladies and the hospital staff. I shared again that the Gospel of Jesus Christ is the only one that gives real peace, real hope, and real future. Then I prayed for the pregnant ladies, their husbands, the doctors and for Ukraine.
When we were about to leave the head doctor came to me and held my hands for a long time, and with tears in her eyes thanked me for sharing from the Bible and praying for them. She was not a Christian, but it was obvious that the Gospel had touched her heart.
As I mentioned earlier, there is a curfew in L`viv between 23:00-06:00. The reason for this is that during the night, many, many large trucks are driving through the city toward the warzone with weapons and equipment received by the NATO countries. They are transported from USA and Europe via Poland. They do not want people in the streets when this is going on. So, in the night, after going to bed, I could hear the large trucks driving and some helicopters in the air, overlooking the transportations. I then realized that this is indeed a country in war.
Despite the war, it seems like people did their best to live life as normal as possible. But sometimes the air-attack alarm will sound, and they need to run down to bomb shelters. The fear of the war is always there, and I really felt that the people are worried and at the same time very proud of their country and willing to fight for it.
Please continue to pray for Ukraine and pray for all the churches that now experience a lot of new believers.
The journey home went well. It took around one hour to get across the border and into Poland again. Then we started on the long way back to Norway and arrived in Norway again on September 2nd. I really felt blessed and thankful being able to drive to Ukraine, give them the Gospel and some aid help. God really kept his hand upon us.
I plan to go back to Ukraine again in October with another 7,000 New Testaments and help to the hospital. So please pray!
Yours in Christ,
Vidar Aronsen
New Life Ministries Norway
---
We thank God that by the power of many prayers, Bibles have been printed and delivered safely to the local site. We thank God from the bottom of our hearts for those who remembered this work in their prayers, and dedicated themselves to this cause.
We thank God that these Bibles have been received with much joy by the anxious and heartbroken people of Ukraine. Please continue to pray for them and for our mission partners who are in charge of the local distribution.
Although the Bibles have been safely delivered thus far, our current funds are still insufficient. The Ukrainian Bible Society appealed to us that even more people are in urgent need of Bibles, so we have decided to print 110,000 more. Please keep this work in your heart, and pray that our printing work will be protected and that their needs will be provided for.
Online Giving
For donations originating from Japan and non-North American countries.

For donations originating from Canada and the U.S.A.

New Life Ministries is a non-denominational Christian ministry committed to serving the Lord by printing and sending Bibles and Gospel literature to Japan and the rest of the world, in each people group's heart language.
Beginning in 1954, under the name New Life League, the ministry reached out to children, provided Gospel literature, and did evangelism through radio broadcast.
Later on, the work shifted more to the collection and printing of Gospel literature as the main focus.
Throughout history, there has always been a call for the supply of Bibles, and New Life Ministries has continued to do all that it can to meet the demand. Our purpose is to see Japan changed for Jesus, and that the whole world be filled with His precious Word.