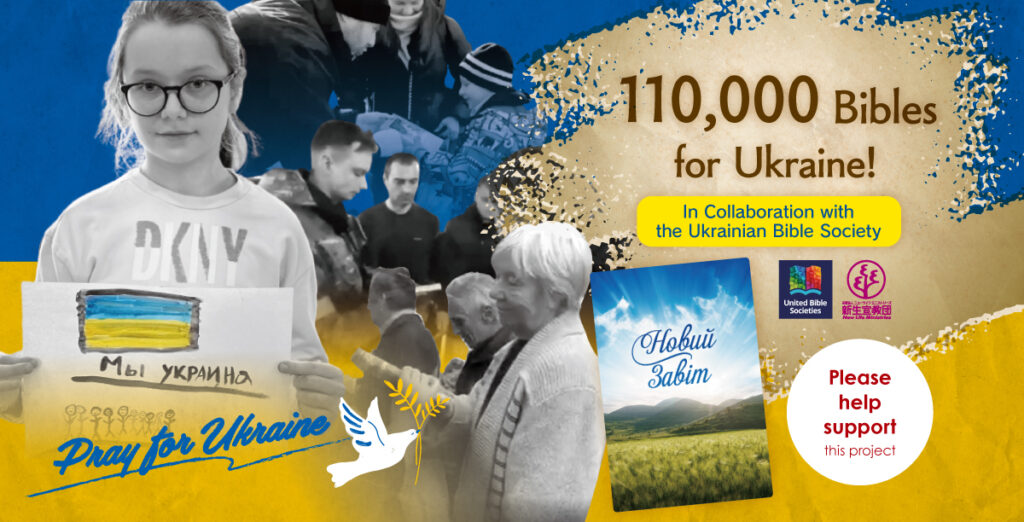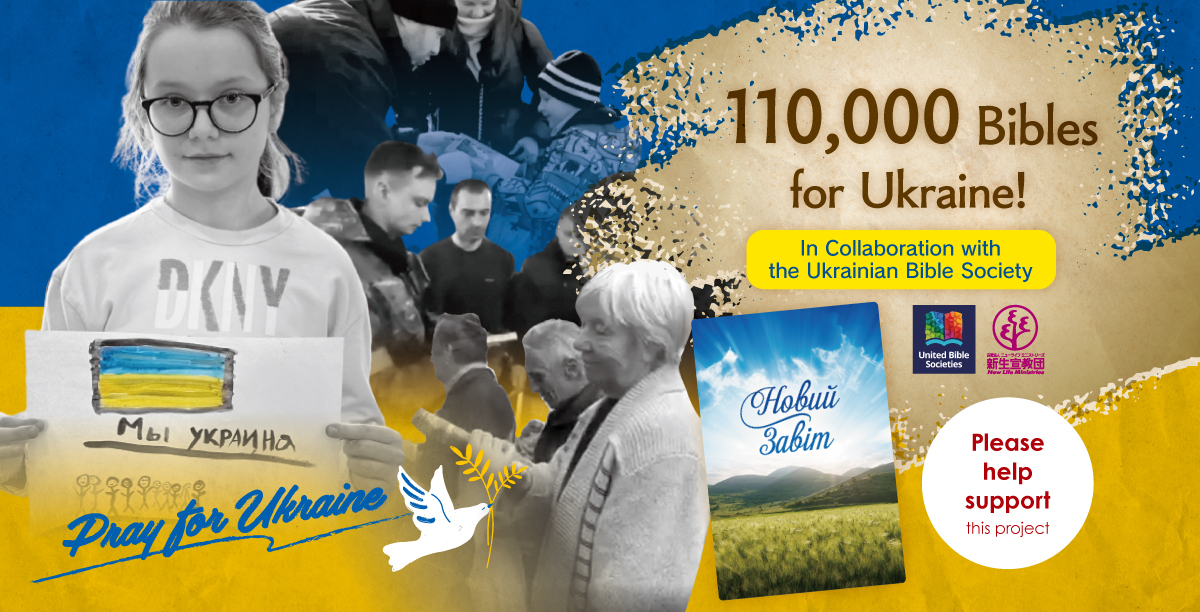 Thank you for always remembering our ministry in your prayers.
New Life Ministries has printed and sent out many Bibles, Manga Bibles, and gospel tracts in different languages.
The 25,000 Ukrainian New Testaments printed in May this year for Ukraine have already arrived and are being distributed with relief supplies by our mission partners in the area.
(Please read report here).
The Ukrainian Bible Society, which is conducting the distribution activities in the area, has requested more Bibles, as they are completely short of Bibles because of the great need.
We believe the Lord has entrusted us with the task of printing more Ukrainian Bibles and delivering His Word so that peace may come to Ukraine.
Please join us in this work.
Printing 110,000 Ukrainian Bibles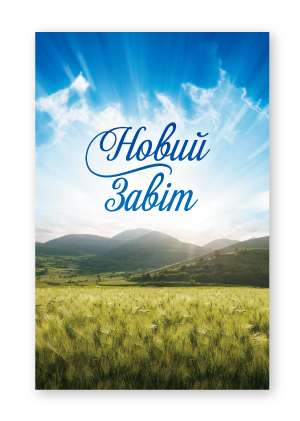 On October 10, there was a massive attack by Russia across Ukraine. Cities that were thought to be safe suddenly came under attack. People have lost many things in the long war and are in a state of uncertainty about the future. Many soldiers who go to war are hungry and thirsty for the Word of Life.
The people of Ukraine need the Bible as food for their souls and light of hope as much as, or more than food itself, which sustains their daily lives.
New Life Ministries in Japan and Norway have come together with the Ukrainian Bible Society to print 110,000 copies of the Ukrainian Bible.
The Ukrainian Bible Society will be responsible for 50,000 books and New Life Ministries Norway and New Life Ministries will be responsible for 60,000 books.
Your support will be used "for such a time as this" for God's purposes.
The cost to print 60,000 books is $175,200 ($2.92 per book). (*Converted at the mid-October rate)
We have not met the $30,433 required for the 25,000 Ukrainian New Testaments that we have already printed yet (we have received approximately $15,893 in donations as of the end of September).
In such a situation, printing another 110,000 Bibles is a great challenge for us.
However, we strongly believe that the Lord wants to "speak to those who are suffering in the places of war" through the Bible, and we have decided to take on this task, believing that it is His will that we should respond as much as we are able.
Message from the Ukrainian Bible Society
Here we want to share with you a message from Anatoly Raychynets, Deputy Director of the Ukrainian Bible Society.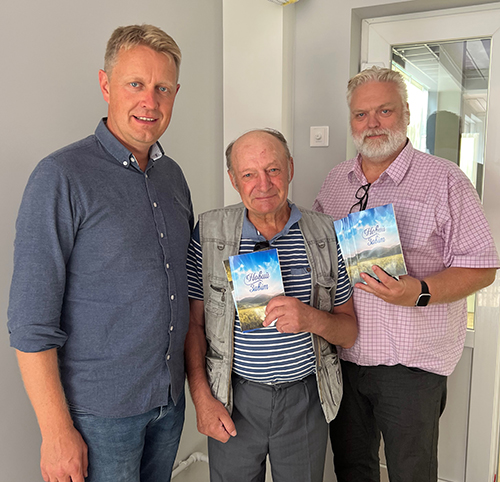 Bibles, along with relief supplies, will be sent to those in need. The risk-taking work of Ukraine Aid and the Ukrainian Bible Society in providing aid is comfort to the people there and a testimony of God's love.
Bibles will be distributed especially to the soldiers who are heading into the areas of combat. Please remember their work of distribution in your prayers and for their safety.
Please support us
The cost of sending one Ukrainian Bible is $2.92 per book.
Please continue to pray and support.
Online Giving
For donations originating from Japan and non-North American countries.

For donations originating from Canada and the U.S.A.

New Life Ministries is a non-denominational Christian ministry committed to serving the Lord by printing and sending Bibles and Gospel literature to Japan and the rest of the world, in each people group's heart language.
Beginning in 1954, under the name New Life League, the ministry reached out to children, provided Gospel literature, and did evangelism through radio broadcast.
Later on, the work shifted more to the collection and printing of Gospel literature as the main focus.
Throughout history, there has always been a call for the supply of Bibles, and New Life Ministries has continued to do all that it can to meet the demand. Our purpose is to see Japan changed for Jesus, and that the whole world be filled with His precious Word.