Karen Bible Distribution (Gratitude Report and Testimony)
Karen Bible Distribution (Gratitude Report and Testimony)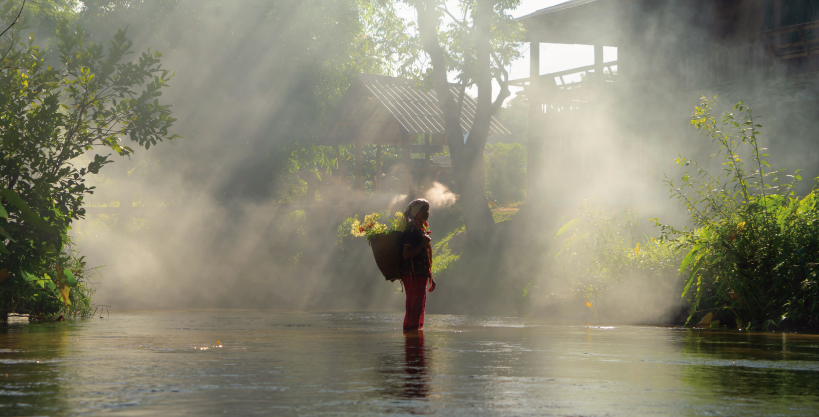 *The photo above is an image.
We would like to share with you a report we received from a mission partner working in Asia on Sqaw Karen language Bibles printed by New Life Ministries.
The Karen People are from the hill tribes living in Myanmar and Thailand, many of whom are Christians, but for various reasons they do not have access to Bibles.
Karen Bible Distribution Report
In the most recent distribution of Karen Bibles, we are giving the Bibles freely to the most remote and poorest Christians. The testimony below is from this most recent distribution and demonstrates the needs of the poor Karen Christians in Myanmar.
Finally, A Bible of My Own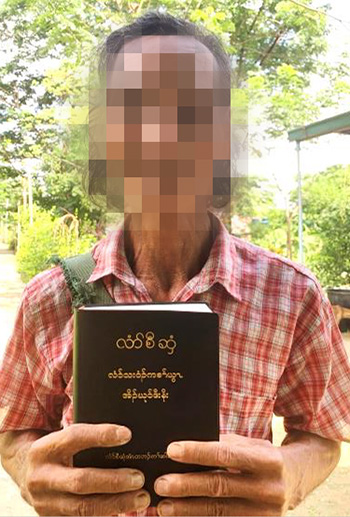 My name is Mr. S Thar and I am from Village A. I am 51 years old. My parents were Christians, but when I was two months old, my parents died in a bomb blast in the jungle. Relatives took me in. But when I was older I didn't feel I fit in, and I became a gipsy boy. I left home and went from village to village. When I was 15 years old, as I travelled here and there, I found a one month Youth Summer Bible training in Village B in Province C. As they provided free food in this training, I asked to attend and they warmly welcome me and allowed me to attend. My reason for attending this training was only for the free food. But after two weeks, as the pastor was teaching about Jesus and his salvation for sinners, his teaching motivated to me and I asked many questions. And by the grace of God I accepted Christ in this summer Bible training.
After I accepted Christ my life became new and all my thinking, desires, and purposes were changed. I prayed every day and decided to work hard and I prayed to God to have my own house. I wanted to stand on my own two feet. I stopped asking others for help, and I started acting more responsibly. God helped me and answered my prayers, and after seven years with Christ, I owned a small piece of land with a bamboo house. I even saved some money so I could buy a Bible, but there are no Bibles available in our area. I could only pray to God to be able to own a Bible. There were only two copies of the Bible in our village. Only the pastor and the church chairman owned a Bible. As our village road is small and muddy and as we live in a mountainous area, it seemed impossible to get Bibles into our village. And not only our village, but also many villages in our area. The people wanted to read the Bible, but there were no Bibles. There was nothing we could do to get Bibles.
Some groups claiming to be Bible distributors came to our village and other villages in our area, and they took the names of those who wanted to get Bibles and they took their pictures, but then they never came back. Our people were so happy when they were told they were going to get Bibles, but then it never happened. Therefore, when we heard that Bibles would be distributed freely, we didn't believe it, because we have many experiences with this kind of news concerning Bible distribution, and nothing ever comes of it.
But this time, Bibles were really distributed for free. We are all so happy and some people cried with joy and thanks to God, because they never thought they could have their own Bible. Thank you for donating these Bibles to us. We are also thanking God. May the Lord bless you all!
Distribution Protected by God's mercy.
The last bibles were supposed to arrive in February, and that would be good, because they could have been distributed before the rainy season which starts in June. But the Bibles came late. We don't remember ever having rain between March and May, but this year we had big rains. Then from June and half of July it was pretty dry. And that's when the Karen Bibles were being distributed. And because the rains were not much at that time, the Bibles could get distributed. Once they were distributed, the rains came heavy, and in mid-August, parts of Yangon had flooded.
One man who was working the distributions said, "We saw miracles all the time when we distributed the Karen Bible. When it first arrived in country and was being unloaded into our storage house, there was no rain. But as soon as it was all in the storage house, then there was a big rain. Then there was no rain for a while and we could go on the little muddy paths to the villages and bring the Bibles. It wasn't so muddy without the rain and it was passable. As soon as we were done and off the paths, then the big rains came. We could always see God's miracles."
---
It is inspiring to hear that the Bible, being long coveted in a distant land, has made its way through our mission partners and finally into their hands. We are reminded that God's help is certainly behind it.
And we thank God from the bottom of our hearts that we are able to print these precious Bibles at New Life Ministries.
Thank you all for remembering these projects and praying for us.
The situation in Myanmar continues to be difficult, especially since the coup d'état. Please continue to remember and pray for the people there and for our mission partners.

Online Giving
For donations originating from Japan and non-North American countries.

For donations originating from Canada and the U.S.A.

New Life Ministries is a non-denominational Christian ministry committed to serving the Lord by printing and sending Bibles and Gospel literature to Japan and the rest of the world, in each people group's heart language.
Beginning in 1954, under the name New Life League, the ministry reached out to children, provided Gospel literature, and did evangelism through radio broadcast.
Later on, the work shifted more to the collection and printing of Gospel literature as the main focus.
Throughout history, there has always been a call for the supply of Bibles, and New Life Ministries has continued to do all that it can to meet the demand. Our purpose is to see Japan changed for Jesus, and that the whole world be filled with His precious Word.
●Please also read the following