On the Press: The First Full Tigak Language Bible
On the Press: The First Full Tigak Language Bible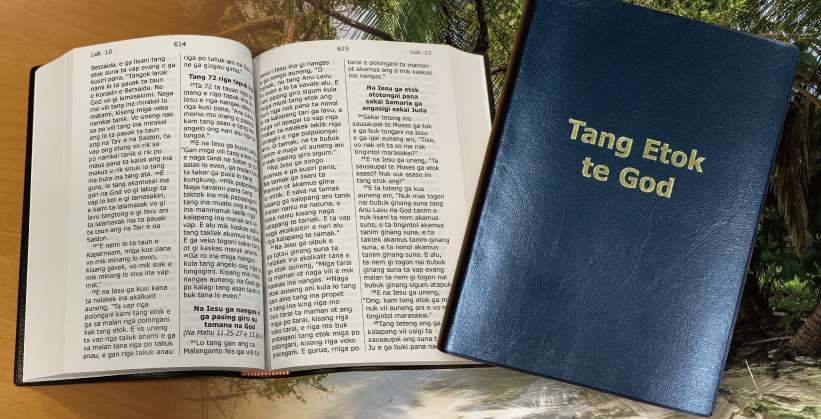 Even in the midst of a difficult situation worldwide, we are grateful that we have been able to print a large amount of Bibles and Gospel literature. We have written a report on the Bibles printed, and to be printed by NLM in January and February.
Please continue to pray for our work.
2,000 Bibles in the Tigak language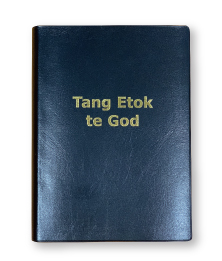 This month, New Life Ministries responded to a request made by our mission partner New Tribes Mission (NTM), printing and sending out 2,000 copies of full Bibles in the Tigak language.

The Tigak language is spoken by a minority of people in Kavieng, a city in the New Ireland Province in Papua New Guinea. It is estimated that there are as many as 6,000 speakers of Tigak.
Until now, the Bible has never been translated into Tigak. We are thankful for being able to print the world's first Tigak Bible through New Life Ministries. The copies we have printed will be used by our local mission partner.
The Sgaw Karen Bible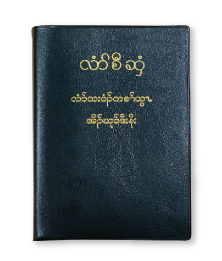 The Sgaw Karen language is spoken by a part of the Karen ethnic minority living in Myanmar and Thailand. The Karen people are hungry for the word of God, and are eager to have their own Bible, but it is particularly difficult for those living in the rural area to afford the Sgaw Karen Bible because it is very expensive.
(The villagers are living in poverty; even after working a whole day, they can't earn more than 1,500 kyats, or about $1.)
To support our mission partners in distributing these Bibles free of charge, New Life Ministries has printed many Sgaw Karen Bibles in the past, and this month we printed even more.
Bibles and supplies are continually being distributed by our mission partners to the local people amidst this difficult situation. Our mission partner will be in charge of the local distribution.
50,000 ERV Bibles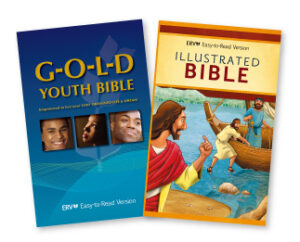 Our mission partner Bible League International has been distributing ERV ("Easy to Read Version") Bibles all across the world. This translation, which uses short sentences and words of common use, is one of the easiest to understand amongst all English translations.
Bible League International conducts a Bible study program called Project Philip, through which children, young people, and adults around the world can come together and learn about the word of God, and receive their own Bible at the end of the study.
By February, we are planning to print 54,000 copies for the children, youth and adults of South Africa and Ghana. In March, we plan to print another 20,000 copies.
110,000 Reach4Life Bibles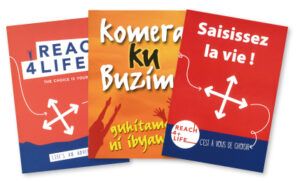 Reach4Life is a New Testament made to be easily understood by young people, initially as a response to the outbreak of HIV in Africa. It is now widely used for the spread of the gospel among students.
We are now printing those New Testaments on behalf of our Africa-based mission partner, Biblica Africa. This year in February, we are planning to print a total of 110,000 copies in English, Portuguese, French, and Kinyarwanda.
---
It is a blessing for New Life Ministries to be able to partake in these wonderful projects.
However, due to the influence of the Coronavirus, we have been burdened by the spike in the costs of fuel, paper, energy, and shipping. We need your support to provide our mission partners with Bibles and New Testaments at the lowest possible cost.
Please continue to pray for the safe delivery of the Bibles, for the protection of the distribution activities on the field, and that they may be passed into the hands of the people.

Online Giving
For donations originating from Japan and non-North American countries.

For donations originating from Canada and the U.S.A.

New Life Ministries is a non-denominational Christian ministry committed to serving the Lord by printing and sending Bibles and Gospel literature to Japan and the rest of the world, in each people group's heart language.
Beginning in 1954, under the name New Life League, the ministry reached out to children, provided Gospel literature, and did evangelism through radio broadcast.
Later on, the work shifted more to the collection and printing of Gospel literature as the main focus.
Throughout history, there has always been a call for the supply of Bibles, and New Life Ministries has continued to do all that it can to meet the demand. Our purpose is to see Japan changed for Jesus, and that the whole world be filled with His precious Word.
Articles Category
ピックアップ記事
2023-2-13