Out of Darkness: Karen People Give Up Evil Spirits to Worship Jesus
Out of Darkness: Karen People Give Up Evil Spirits to Worship Jesus
Testimony: 2 Young Karen Christians in Myanmar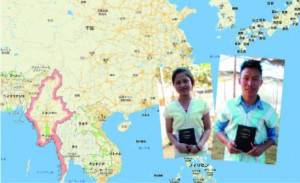 In the country of Myanmar, there are many different people groups in addition to the majority Burmese. Such groups include the Karen, the Kachin, the Chin, and many others. The dominant religion is Myanmar is Buddhism, with Christianity being about 4% of the entire population. The Karen people in particular are one people group with a large Christian population. They have experienced their share of struggle in the military turmoil in Myanmar.
About 300 people were baptized last year in a refugee camp (see the top photo), and the Bibles that New Life Ministries printed for our partner in SE Asia were distributed to the new believers. Among those new believers was a boy named Tei. He grew up running from the Burmese Army, living in the jungle with his family. At that time, he and his family worshipped evil spirits. Due to the war, he had to go into a refugee camp. This is where he first met Jesus. "I really know Jesus loves me," he said. "With Jesus there is hope."
At the same baptism, there was another girl named Cherry. She grew up in Burma and her family members were farmers. Her mother's side of the family worshiped evil spirits while her father was a Christian. When her mother married him, she became a Christian, but her grandfather was the leader of the people who worshiped evil spirits. However, he also came to know Jesus, and after that, more and more people in their village accepted Jesus into their hearts. Cherry came to the refugee camp later on to get an education. This is where she truly came to a saving knowledge of Jesus.
Both Tei and Cherry received their first Bibles on the day they were baptized. We know that God's Word has the power to change lives! Let's continue to pray for Tei, Cherry and the many others who were baptized that day, that they would grow in their faith, firmly planted and strengthened in the Word, that they will be light over the darkness that they had once worshiped, and reach out to those around them who still don't know Jesus.